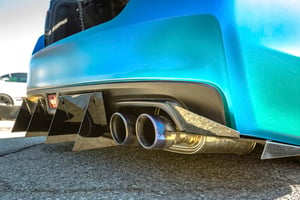 Whether you plan to do a custom paint job or add a major modification like a supercharger, customizing your car can have insurance ramifications. If you're enhancing your car, you may be wondering, "Should I call my insurance agent about special auto insurance coverage if I customize my car?" The answer is yes.
Modifications a standard policy will/won't cover
Most auto insurance companies regard customization/modifications as anything that isn't offered by the original manufacturer of the car or installed by the dealer as a part of the original sale. Examples of popular modifications drivers make to their vehicles, and which usually require supplemental or separate insurance, include:
Custom paint job, murals, graphics, or decals
Electronic equipment like a custom stereo, PC, TV, or video system
Custom tires, wheels, or spinners
Custom spoilers, louvers, scoops, or grilles
Speed enhancements like turbochargers and blowers
Anti-roll/anti-sway bars
Added chrome
Accent/auxiliary lights
Suspension enhancers/hydraulics
Fuel pump deletion kits
No matter how you modified your car, it's important to call your insurance agent. Be specific about the types of modifications you made. While you may be tempted not to tell your insurance agent about your customizations for fear that your premiums could increase, it could cost more if you don't get the proper coverage. That's because if there's an accident, you may not be reimbursed for the enhancements you made to your car. Here's why:
A standard auto policy is typically an actual cash value policy:

Actual cash value is the fair or reasonable cash price for which property could be sold in the market, in the ordinary course of business, and not at forced sale. It's the price it will bring in a fair market after reasonable efforts to find a purchaser who will pay the highest price.

When you modify a vehicle, it narrows the market value. The average auto consumer may not value the $6,000 suspension lift kit and rear spoilers and might even associate the enhancement(s) with possible misuse of the auto which limits potential buyers and lowers its market value.



Depreciation:

As modifications get

older, very little value is added. Tires depreciate during each use due to wear and tear, and electronic equipment becomes outdated quickly due to short product cycles and new technology enhancements.



Possible denial of coverage:

If you install a kit that turns off the manufacturer's prevention measures or if you use your vehicle in racing, you could be denied coverage in the event of a loss.

Most insurance companies won't provide coverage if you turn off safety mechanisms in your car or crash while racing — legally or otherwise. This includes damages sustained while test driving your car on a racetrack.
What are my options for retaining the value of my customizations?
Although a standard auto policy will most likely not reimburse the value of all customizations if you need to file a loss claim, call your agent to discuss two possible options that can help retain your customization value:
Supplemental Coverage: Many insurers offer endorsements that provide supplemental coverage for modifications and aftermarket components on a case-by-case basis.



Classic/Collectible/Stated V Car Insurance: "Stated cash value" or "agreed value" policies are just as they sound: You and your insurance company both agree on the value of your vehicle and it doesn't depreciate.
Before you take that car for a spin, just remember: If you modify/customize your car, it's best to save receipts, take photos, and call your insurance agent to ensure your auto is adequately insured.
Do you have any tips you'd like to share? I'd love to hear them; please share them in the box below.
This blog was written by Wendy Wagner, Personal Lines senior underwriter.
This article is intended for general educational and illustrative purposes only and should not be construed to communicate legal or professional advice. Further, this article is not an offer to sell insurance. Please consult with your licensed insurance agent for specific coverage details and your insurance eligibility. All policies are subject to the terms, conditions, limitations, definitions, and exclusions contained therein.