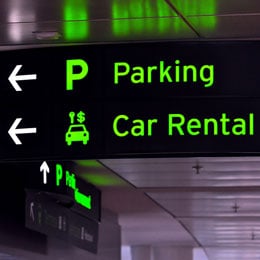 Are you renting a car for spring break or a summer trip? I've found the rental car experience is seldom an enjoyable one. Everyone is in a hurry to get their cars and go. In addition, the rental car staff always makes me question whether I'm doing the right thing by declining their coverage.
Today's blog will share some information from the Insurance Information Institute on the coverages offered by a rental car company and things to consider before renting a car. If you understand what coverage you already have on your own auto policy, as well as what the rental car company offers, you'll be able to make an informed decision about choosing their coverage. This will make the rental process easier and hopefully lead to a more enjoyable start to your vacation.
Before renting a car:
Talk to your agent. Be sure to let your agent know where you're going and what your plans are. Your agent can review your auto policy to determine if you're adequately covered, and if not, make recommendations.
Understand what your credit card offers. Credit card companies may offer some coverages but only if you meet certain criteria. On the other hand, they may only offer coverage if it's secondary to your insurance. If you don't have the proper coverage on your policy, theirs may not help you out.
Here are some scenarios in which it's a good idea to buy rental car insurance:
You have liability coverage only.
Your policy has a high deductible.
An accident could lead to an increase in your insurance rates or cancellation based on your claim history.
You're renting a car in a foreign country.
If you have a West Bend Home and Highway® policy, you can feel confident you'll be covered if there's an accident with a rental car. West Bend's policy is unique in that damages are covered under the liability portion of your policy so there will be no comprehensive or collision deductibles. Our policy also covers loss of use. Loss of use is the time during which the car can't be rented to others because repairs are being made. Lastly, the diminished value of the vehicle is also covered. After a car is damaged in an accident, it may not be worth what it was before the accident.
The same coverage discussed above is also provided if you rent a U-Haul or a motorhome.
Please note:
The coverage territory for a West Bend policy is the United States of America, its territories or possessions; Puerto Rico; or Canada. So if you're outside these coverage territories, buy the insurance or don't rent a car.
If you violate any terms of the rental agreement, coverage will not be provided; therefore, it's important to list all the people in your party who may drive the vehicle.
Do you have any tips or information you'd like to share? If so, I'd love to hear them. Please share them in the box below.
This article is intended for general educational and illustrative purposes only and should not be construed to communicate legal or professional advice. Further, this article is not an offer to sell insurance. Please consult with your licensed insurance agent for specific coverage details and your insurance eligibility. All policies are subject to the terms, conditions, limitations, definitions, and exclusions contained therein.