Heading out to the pumpkin patch or apple orchard is a standard fall tradition for families. Many farm businesses rely on the seasonal business from these patrons. Hayrides, corn mazes, haunted forests or houses, playgrounds, food and drink services, animal petting areas, apple picking areas, and many other activities are often included in these experiences. While lots of fun, all these activities create unique risks that businesses should ensure are considered when planning for their fall season.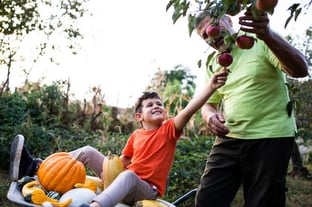 Keeping your farm or orchard safe
Insurance coverage: Consult with your agent to ensure that any additional activities that are planned for the fall season are covered by your insurance policy. If needed, purchase additional special event policies, or modify activities that are deemed too risky.
Protect your animals and crops: With large groups of people on your property, any area that's not specifically blocked off could become fair game for guests. Use signage, ropes, and employees or volunteers to ensure that guests only access areas of the farm that are open to the public. If certain animals are available for guests to interact with, post instructions, and if possible, have an employee nearby to supervise. Always provide hand sanitizer and hand washing stations if guests are allowed to pet animals.
Consider trip and fall injuries: Trip and falls are extremely common injuries, especially on farms with uneven ground, dirt paths, and apples or other fruit laying around after being picked. Periodically inspect your walking paths to make sure they're as smooth as possible and that any obvious tripping hazards are removed.
Make a traffic plan: Post signs and markers to ensure patrons know where to enter and exit your farm as well as where to park. This will make traffic flow smoothly and keep guests safer while walking through the parking area.
Hours of operation: The days get shorter as the fall goes on. Some businesses stay open during the darker evening hours for bonfires or haunted tours. If this is in your plans, ensure the parking area and any area where patrons will be walking are well lit to keep everyone safe.