The new school year is coming up quickly and childcare centers are working on plans to start the year off on a good note. Along with student schedules and classroom preparations, centers must establish and train staff on their child tracking procedures. Many centers provide care for children before and after the official school day and may even transport children to and from their elementary schools. We've previously written about child tracking procedures and how important they are; however, keeping track of school-aged children during before- and after-school care is a whole different challenge. It's essential for centers to develop consistent procedures to ensure every child is accounted for.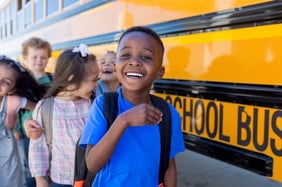 Tracking procedures for school-aged children
It may be helpful for centers to consider these questions when creating their tracking procedures for school-aged children.
Will the center provide transportation or will school buses pick up and drop off the kids?
How will the students be checked into and out of the center when they arrive in the morning or after school?
What are the procedures if the center is providing the transportation?
How will the center be notified if a child is not attending school due to illness or any other reason?
It may also be helpful to walk through a few scenarios with staff members, for example what should a staff member do if they're at the school to pick up the children and a child doesn't show up to get on the bus as expected?
While no two centers will handle this in exactly the same way, it's critical to answer these questions and to follow the established procedures to keep track of all students. Parents must also know what their responsibilities are for communicating with the center about their child's attendance. By working collaboratively with parents and their local elementary school, childcare providers can safely provide this critical service of before- and after-school care.