On-the-job accidents date back to the building of the Egyptian pyramids. Fortunately, thousands of years of progress have resulted in many techniques that help prevent worker injuries. Machine guarding is just of those many safety techniques.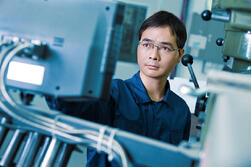 One of the goals of the OSHAct is to guard machinery and equipment to eliminate hazards created by points of operation*, ingoing nip points**, rotating parts, and metal chips and sparks. Moving machine parts can cause injuries such as crushed hands or fingers, amputations, lacerations, burns, and eye injuries.
OSHA standard number 1910 Subpart O addresses machinery and machine guarding.
These machines usually require point of operation guarding:
guillotine cutters;
shears;
alligator shears;
power presses;
milling machines;
power saws;
jointers; and
forming rolls and calendars.
Standard number 1910 can be found at www.osha.gov.
*Point of operation: The area on a machine where material is positioned for processing by the machine and where work is actually being performed on the material.
**Ingoing nip points: A hazard area created by two or more mechanical components rotating in opposite directions in the same plane and in close conjunction or interaction.


Joan Kuhn
Loss Prevention Commercial Specialist
View Joan's Profile