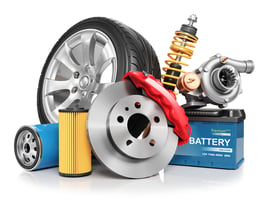 I'm just the owner of an auto parts store. How much risk do I really have in my business?
Probably more than you think. Sure, your day-to-day operations, including sales and customer satisfaction, are front and center, but you can't ignore the risks your auto store business also faces. Here are a few that require your attention, as well as safety plans:
Slips and falls: Customers or employees could slip or fall while in the parking lot or in the auto parts store. Consequently, it's very important to keep parking lots and all walkways (including aisles) free of fall hazards 365 days a year. After this tough winter, potholes could be lurking in your parking lot and the elevation on walkways may have shifted. Be sure you fill in those potholes and highlight sidewalks (using bright yellow or orange paint) where the elevation has changed.
Employees can be injured in many ways, from lifting heavy parts and batteries, to cutting themselves while using knives to open boxes, to falling from step ladders while moving parts on shelves. Formal safety programs and regular employee training should always be a part of your operations.
Perhaps the greatest exposures lie in the delivery of auto parts. Drivers have significant exposures that can lead to a host of claims for the physical damage of the vehicles involved; the potential injuries to other drivers, passengers, and pedestrians; and workers' compensation claims for your employee. It's imperative that you diligently screen driver candidates. Use caution if you're considering drivers who are younger than 21 or older than 65. Review the motor vehicle records (MVRs) of all your drivers at least every six months. Unacceptable drivers must not be allowed to operate a company vehicle. And don't forget the vehicles! Routine safety inspections should include monitoring turn signals, break lights, and other key items.
As a business owner, you have many concerns. As an auto parts store owner who provides delivery services to your customers, you have a significant business exposure. Fortunately, you can help control those exposures – and many others – with sound management practices and routine safety training for employees.
This blog was written by Mike Himes, a Loss Prevention Representative for West Bend.