Mike was still a young man the day his life changed forever. He was working at a residential construction site. He and his coworkers were laying out walls on the floor of the new home and Mike was taking measurements near the edge of the second story. No one knows exactly what happened, but he fell over the edge and landed on construction materials 22 feet below. He suffered a spinal cord injury that left him a paralyzed from the waist down. This is an actual West Bend work comp claim. If a fall protection system had been in place, it could have been prevented.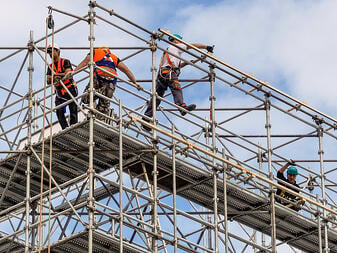 On December 22, 2010, compliance with OSHA's fall protection standard became mandatory for residential construction. Enforcement of this standard began six months later on June 16, 2011. A number of technological advancements in fall protection systems allow residential contractors to comply with OSHA's fall protection standard.
Unfortunately, we still receive WC claims in which a worker fell from a roof or other elevated surface that required fall protection. Residential construction employers need to reverse this trend and protect their workers from unnecessary, and often serious, injuries.
Each fall hazard must be evaluated to determine the best fall protection method. Fall protection should be used whenever workers are exposed to falls greater than six feet. Conventional fall protection includes guardrail systems, safety net systems, and personal fall arrest systems.
OSHA has a dedicated page on their website about the fall protection systems available to residential contractors. Please visit the Safety Resources tab at www.silverlining.com for more safety-related materials, including fall protection.
This blog was written by Joan Kuhn, a Commercial Lines Loss Prevention Specialist for West Bend.