When I visit machine shops or manufacturers, I often ask many questions related to the lockout/tagout program. I usually hear, "Uh huh, yep, we have one of those," but see no evidence of the employees' using their lockout/tagout devices. Sometimes, I'll even hear, "Lockout what?"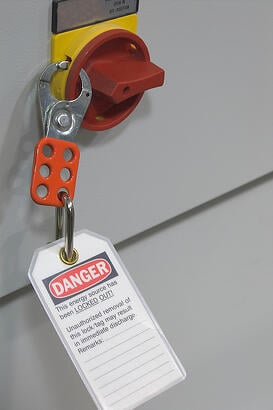 Lockout/tagout is a safety procedure used to ensure that employees are protected from the unexpected power or start up of machinery and equipment during service or maintenance work. Lockout/tagout devices must be used before servicing or maintaining machinery or equipment, when hazardous energy exists, or if an unexpected start-up could occur. The lockout not only prevents machinery from being turned, it prevents machinery and equipment parts from moving. The tagout provides a warning. Many kinds of equipment require a lockout/tagout device, including presses, power saws, conveyors, pumps, production equipment, and trash compactors.
Hazardous energy can occur in live or stored electricity, moving machines, or equipment parts. It can also be invisible. There are many ways energy can be stored: heat, gravity, pneumatic and hydraulic pressure, air and water pressure, steam, and chemicals. It's important that employers recognize every area in which lockout/tagout must be used.
By law, employers must develop, implement, train employees to use, and enforce a lockout/tagout program. This includes a written program with instructions on how to properly de-energize equipment before servicing. Employees must be trained in two groups:
1.) Those who are "authorized" to service or maintain equipment must be trained to correctly lockout/tagout their machines; and
2.) Those who are "affected" must be trained to know how lockout/tagout affects them in their work spaces.
Evidence of an effective lockout/tagout program includes basic written instructions to properly de-energize the machine which are posted at each piece of machinery, an easily-accessible written program, and a lockout station where employees can easily locate their locks.
It's also very important that employers educate subcontractors on their lockout/tagout procedures. To ensure consistency and thoroughness, subcontractors must use the same lockout/tagout procedure employees use.
For more information on how to start a lockout/tagout program, please visit: https://www.osha.gov/dts/osta/lototraining/index.html
For more information on where to buy your lockout/tagout kit, please visit:
http://www.grainger.com/category/lockout-devices/safety/ecatalog/N-b30

This blog was written by Cari Lamb, Loss Prevention Representative for West Bend.