With the holidays quickly approaching, many retail stores look forward to the extra boost in sales this busy season brings. Unfortunately, the extra busyness of the season can sometimes cause problems for store owners. Here are some tips to help get retail stores through the hustle and bustle of the holiday season.
Eliminate slips, trips, and falls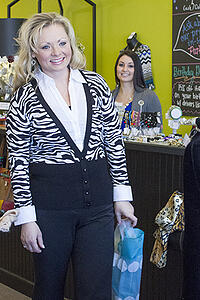 Because the holidays fall during the winter, it's crucial that you eliminate as many slip, trip, and fall hazards as possible. If it snows in your part of the country, make sure you have a snow removal contract with a professional snow removal company. The contract should include proof of insurance, as well as an indemnity clause. The contract should also state when the snow removal company must plow, shovel, salt, etc.
Make sure your employees know what's expected if it snows during business hours. Have shovels and salt/sand available if it snows before your snow removal company can make it onsite.
Before the snow season begins, do a visual and physical inspection of your outdoor premises. Are your downspouts positioned properly to avoid accumulation of water/ice? Are there any uneven areas of your parking lot or sidewalk that should be fixed?
Inside the store, make sure all pathways are clear of boxes, garbage, cords, and debris. As you get more inventory to prepare for the busy season, make sure it's put away and doesn't clutter the aisles. Also, double-check cord placement to make sure there are no trip hazards inside the store.
While mats and rugs are a necessity in bad weather, they can also become a trip hazard. Make sure rugs and mats are properly secured and vacuumed/dried often so they don't become a trip hazard.
Plan for all types of emergencies
It's easy to assume your business won't have any emergencies, but it's also dangerous. Think ahead and plan for emergencies. These include medical emergencies for employees or customers, as well as weather or fire emergencies. Make sure all exits are clearly marked and not blocked. Throw away those empty boxes immediately!
Place emergency exit signs throughout the store to show employees and customers the proper ways to get out. Clearly mark where fire extinguishers are located. Make sure there's emergency lighting throughout the store and test it regularly to make sure it works.
Reduce shoplifting
With more shoppers in the store, the risk of theft and shoplifting is higher. Placing cameras throughout the store may help you reduce this threat, as well as provide increased security for customers and employees. As the cost of this valuable equipment goes down, it's become easier for business owners to make the investment. And they're pretty easy to install. With some cameras, you even have the ability to access video monitoring on your cell phone.
While dim lighting may provide the right ambience, it can also result in more shoplifting. Make sure lights are bright to help eliminate theft AND to help prevent your customers and employees from tripping.
Train employees properly
Employees should be properly trained BEFORE the busy holiday season starts. Make sure they know:
What to do if there's an emergency. Emergency numbers should be easily accessible. Employees should know what's expected of them if they find a customer stealing merchandise.
How to lift heavy boxes and use ladders properly. In some instances, an employee should wait until another employee can help them so there are no injuries.
Cash register procedures, such as how much money should be in the cash register at the beginning of the day/shift and where large bills should be placed.
Credit card liability
Finally, retail store owners must be aware of the liabilities they face if they accept major credit cards. We've all heard of the security breaches that large stores, such as Target and Home Depot, have had. Make sure you regularly change passwords for your point-of-sale systems and make them difficult to guess. Also, make sure your system has anti-virus software (updated regularly) to protect all email and computers. If you have other concerns, talk to your point-of-sale vendor to determine what else you can do to keep your systems safe.
This blog was written by Carri Lamb, a Loss Prevention Representative for West Bend.