A law passed earlier this summer attempts to keep young infants safer while sleeping. The law bans the sale and manufacturing of different types of products that have been found responsible for multiple infant deaths. The first type is padded products, including soft crib bumpers, that are used to block the slats on the sides of cribs. The law also bans inclined sleepers; these are small bassinet-type devices with a raised-up head area. Both types of products have led to many infant suffocations.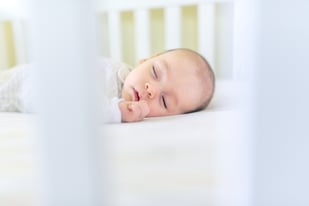 The American Academy of Pediatrics recommends that infants sleep alone on their backs on a flat surface. This can be challenging for infants, hence the popularity of the inclined sleeping devices. Being smaller and having a cozier feeling with the incline, many babies sleep better in these devices. However, they can be very dangerous if an infant rolls over. Many of these types of products had been recalled even prior to this new law being passed. Fluffy crib bumpers have also been linked to infants suffocating when they roll and become trapped in the fabric.
Safe sleep in childcare facilities
Any childcare facility or organization that cares for infants must follow this new law. This means that all infants must have their own flat sleep space without any crib bumpers, blankets, or anything else. If infants fall asleep in swings or any other devices, they must be transferred to a safe crib. Even though inclined sleeping devices are no longer sold, it's still important to make sure none of these are being used for infant sleep. They may have been purchased or donated prior to the new law. By following these simple rules providers can prevent tragedies and keep babies safe.
Additional safe sleep resources for childcare providers
Unsafe sleep practices and tragedies in childcare