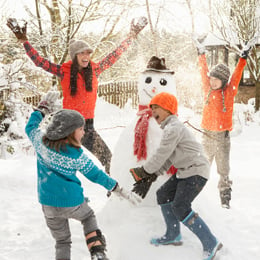 It's definitely winter in the Midwest. Here in West Bend, we did have a white Christmas with more than a foot of snow falling just days before the holiday. Folks who live not too far south of us, however, saw only a few inches of snow from the same storm because most of the precipitation was rain. The point is that winter can be unpredictable so it's a good idea to be prepared for whatever Mother Nature throws your way.
Here are 10 safety tips to help keep you and your family safe and healthy this winter.

1. Do you know the difference between a storm watch and a storm warning? What about an advisory? Here are the definitions of potential storm activity from the National Weather Service:
a. Winter Weather Advisory
This means winter weather conditions are expected to cause significant inconveniences and may be hazardous. If you're careful, these situations shouldn't be life threatening.
b. Winter Storm Watch
More serious than an advisory, a "watch" means winter storm conditions are possible within the next 36 to 48 hours. People in a watch area should review their winter storm plans and stay informed about weather conditions.
c. Winter Storm Warning
This is the most serious advisory. It means severe, life threatening winter conditions have begun or will begin within 24 hours. People in a warning area should take precautions immediately.
2. Be aware of the actual temperature and wind chill. A sunny day with high winds may not be as warm as it first appears.
3. Set a time limit for your children to play outside. Have them come inside periodically; warming up can help prevent frostbite and hypothermia.
4. If you suspect you or your child has frostbite, submerge the affected areas in warm water. Never use extremely hot water because it could damage the skin or surrounding tissue.
5. If you're going to be outside on a sunny winter day, consider applying sun screen to exposed skin. It may sound strange to use sunscreen in winter, but the sun's rays can cause sunburn even when it's cold outside.
6. If you're snowmobiling or skiing on a sunny day, wear goggles or sunglasses with UV protection. Long exposure to sunlight that's reflected from snow or ice can cause temporary blindness, also known as snow blindness.
7. When sledding, stay away from roads and make sure there's plenty of room to stop safely.
8. Also when sledding, make sure your feet are first or you're sitting up. Never sled head first by lying on your stomach or back.
9. While cold temperatures don't cause colds or the flu, these viruses are more common this time of year. To minimize your chance of catching a virus, wash your hands OFTEN with soap and warm water. Wash for at least 30 seconds, including the backs of your hands and in between your fingers. Carry hand sanitizer with you and use it if soap and water aren't handy.
10. Try not to touch your eyes, nose, and mouth; this is a common way for germs to enter your body.
Do you have any winter safety tips you'd like to share? I'd love to hear them; please share them in the box below.