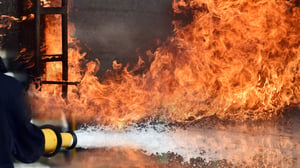 Sending children off to college for their first year is an exciting time for families. College allows kids the freedom to make their own decisions and allows them to pursue a career that they're passionate about.
Numerous conversations are to be had regarding college life. A conversation that may get overlooked is one on fire safety. If students live in the dorms, the college residence hall staff or safety department will discuss fire safety and evacuation procedures with them. But let's face it, they're excited about other things that college has to offer, not fire safety. What may seem like a dumb rule or policy to them could save their lives.
For students living in apartments or houses off campus, it's their responsibility to understand fire safety. No one is going to be there to watch over them or make sure their living conditions are safe.
The peak months for dorm fires are September and October. The peak times for these fires are between 5:00 pm and 9:00 pm. Here are some of the causes of those fires.
Cooking equipment
Smoking materials
Here are some things your students can do to prevent injury.
1. Understand all evacuation routes. Evacuating quickly is the key to survival. Have them review and become familiar with evacuation routes before an emergency. During a fire, one of their routes could be blocked. If this is the case, they'll have to find another way out.
2. Be aware of the closest fire alarm. Should a fire start in their dorm or apartment, make sure they're familiar with where the closest fire alarm is located. The quicker they pull the alarm, the better.

3. Don't tamper with smoke detectors. Working smoke detectors are key in alerting of a fire and starting the evacuation process. If they disable a smoke alarm due to a problem, they should contact their college's safety or maintenance department promptly.

4. Don't block fire exit doors. In many college dorms and apartments space is limited. They should never block entrances/exits with bikes, boxes, or furniture. In an emergency, they won't have much time to move items.
5. Report damaged fire equipment to the appropriate staff. Fire equipment may be damaged accidentally or by vandalism. If your students see damaged equipment, make sure they report it to the residence hall staff or safety department.
6. Be familiar with how to use a fire extinguisher. While a student's priority should be to evacuate the building, there may be a time that a fire extinguisher could be helpful. Trying to read the instructions during a fire isn't a good idea.
7. Don't be a practical joker. While pulling a fire alarm as a joke, may seem harmless, it can have serious consequences. When a real fire starts, students may not take it seriously.
Here are some things your college students can do to prevent starting a fire.
1. Keep an eye on small appliances. While most college students are enrolled in a meal plan, common appliances that can be kept in a dorm room include a microwave, coffee maker, and toaster. When using these appliances, they should stay close by. Also, before rushing off to class, they should make sure they have turned it off or unplugged it. Don't forget about the curling iron or hair straightener.
2. Use candles with extreme care. Candles are prohibited in most college dorm rooms. However, if they're living off campus, candles can provide some amazing scents and a way to relax. However, they should never leave candles unattended or near clutter. Fires can start and spread very quickly.
3. Take it easy on power strips and surge protectors. With all of today's devices, outlets are usually at a premium, so power strips and surge protectors come in handy. However, they should never connect multiple power strips together to increase the number of outlets available. In addition, they should never use power strips or surge protectors for high-power capacity items such as space heaters, dehumidifiers, or other high-capacity appliances. Have them plug those items directly into a wall outlet.
4. Keep decorations to a minimum. If you've been in a college dorm, you probably noticed that dorm room decorations can be elaborate. While it's fun to furnish and decorate the new room, keeping things to a minimum is much safer. Share these suggestions with them when it's time to decorate. Never hang things from a smoke detector or sprinkler. Avoid running extension cords in front of a doorway or under a rug. Don't block a doorway or window with furniture.
5. Don't smoke indoors. They should smoke outside or in designated smoking areas.
For a fire safety checklist for your student click here.
Insurance Coverage
Parents and students alike may be under the misconception that their current homeowners policy provides protection for their property that's kept at school. This may not be the case. A homeowners policy may have different deductibles, limits, and eligibility requirements or it may exclude certain claims.
If they're renting an apartment or home off campus, consider buying a renters policy. To learn more, check out my blogs below.
Renter's insurance. A smart choice for college students
Does your personal insurance protect your college student?
Before your student goes off to college, talk to your independent insurance agent to see how your policy provides coverage.
Do you have any tips or information you'd like to share? I'd love to hear from you. Please share them in the box below.
Source:
https://www.nfpa.org/Public-Education/Staying-safe/Safety-in-living-and-entertainment-spaces/Campus-and-dorm-fires
This article is intended for general educational and illustrative purposes only and should not be construed to communicate legal or professional advice. Further, this article is not an offer to sell insurance. Please consult with your licensed insurance agent for specific coverage details and your insurance eligibility. All policies are subject to the terms, conditions, limitations, definitions, and exclusions contained therein.