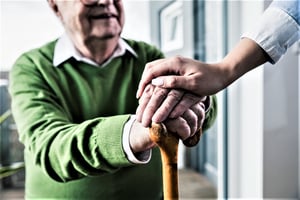 Buying a home is probably the biggest purchase you'll make in your lifetime. Once the purchase is made, it doesn't end there. Maintaining a home takes a lot of dedication and hard work.
Each May, Older Americans month is observed. This year's theme focuses on how everyone can make a difference in the lives of older adults. If you have elderly parents, you know that it's important to them to continue to live independently in their home.

If they're in overall good health, there are many things that can be done to help them continue to live independently while staying safe.

1. Declutter. My parents are currently going through this process. My mom can't believe how much stuff they've collected over the years. Delcuttering helps clear out rooms and walkways giving them more room to move, hopefully reducing the possibility of trips and falls. If your parents are decluttering, or need to start, consider lending them a hand when you're able. Decluttering can be an overwhelming and cumbersome project.
2. Tighten handrails. Whether you're young or old, everyone needs to use a handrail on occasion. Finding out the handrail is loose or broken when you need it most can result in serious injuries. Check the hardware that supports the handrail to make sure it's tight and in good condition. If replacement parts are needed, make the repairs a priority.
3. Remove large rugs. While rugs can add to the décor, they can also be very dangerous. Seniors using walkers, canes, or shoes with inserts can get tripped up easily. By removing the rugs, your parents will be able to navigate their home more easily and safely. If you can't convince your parents to remove them, make sure rugs are tacked down or have anti-slip pads.
4. Inspect the stairs. A thorough inspection of the stairs is important. Stairs can have several issues that may have been overlooked when your parents were younger. Things to look for include:
Uneven steps
Loose or wobbly floorboards
Worn, ripped, or loose carpet
Depending on what's wrong with their stairs, you may need to contact a professional to fix them.
5. Help with changes to their bathroom. Bathrooms can be extremely dangerous. Water, rugs, slippery surfaces, and small spaces can make it difficult for them to maneuver which can lead to slips and falls. Here are some things that can improve safety.
Install grab bars. Grab bars should be installed in and around their shower or tub. If they have a slight balance problem, this can give them the appropriate support they need. Never rely on towel bars to do the same job. They're not designed to support that much weight. If your parents don't have good upper-body strength, then a different solution is needed.
Install a shower chair. A shower chair can be taken in and out of a shower or bathtub or it can be permanently installed. A shower chair is a nice option for any senior who doesn't have balance issues and can safely get in and out. If they can't get in and out safely, this isn't an option for them. For additional options click here.
Install a raised toilet seat. A raised toilet seat offers many benefits. Most raised seats can add 3-6 inches of lift. This makes it easier to sit and stand. This lift reduces falls and prevents uncomfortable movements. Adding optional arm supports can provide needed assistance while they're using the toilet.
Use non-slip mats or rugs. Proper placement in the bathroom can help eliminate falls on slippery surfaces.
Consider a walk-in tub. If the options mentioned above don't work and your parents are adamant about staying in their home, it may be time for them to install a walk-in tub. While walk-in tubs are expensive, the swinging door allows seniors to navigate in and out easily.
6. Help them rearrange their kitchen. It's tough to re-arrange their kitchen when they've been going to the same drawer or cupboard for many years. However, moving frequently used items to lower shelves can prevent your parents from reaching and losing balance or trying to use stools or stepladders.
7. Install a ramp. If your parents have stairs in their home and limited mobility, it's important to take measures to ensure that any and all accessibility needs are met. This means finding and implementing the proper wheelchair ramp for maximum maneuverability, ease of use, and safety. Click here to learn more about selecting the appropriate ramp.
8. Install smart devices. Smart devices allow us to be more connected to our homes. Adding smart devices to your parent's home can allow them to age gracefully in the comfort of their own home. It also can provide you with peace of mind. Check out these five devices that can improve their safety.
9. Encourage your parents to hire professional services. If lawn maintenance or snow removal is becoming difficult for them, encourage them to hire a service.
As our society ages, it's important that we all lend a helping hand when we can.
Do you have any tips you'd like to share? I'd love to hear them; please share them in the box below.