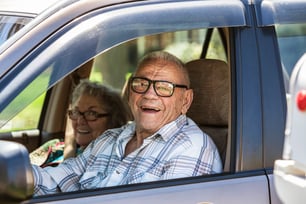 According to statistics from the Federal Highway Administration, about 29 million Americans of the age 70 years or more are licensed drivers. In other words, one in six drivers in the U.S. belongs to the aging baby boomer population.

With increasing numbers of senior drivers on the roads, safety is a concern. This recent data suggests that in 2018 alone, almost 7,700 Americans lost their lives in car crashes involving an elderly driver.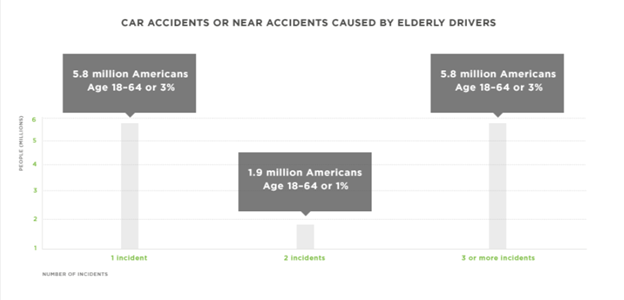 Source

The good news is that seniors are reported to follow safety precautions while driving better than any other age group. From using seat belts to keeping speed limits in check, seniors are known to exhibit safe driving behaviors.

Driving is good for seniors too! It helps them stay fit, independent, and connected with their loved ones. However, driving is a complex task requiring healthy cognition and flexibility.
We have a few tips that can lead to an enjoyable and safe long drive.
1. Plan Well.
Once you decide on a destination, work on a detailed itinerary. Include your friends and family in the discussion. They can offer valuable advice to help you determine the best route possible.
Next, pick up a map or choose from many apps that could prove handy during the planning process. Remember to take a printout of the route for areas where your network may falter.
Tell your neighbors (and pet sitters if you're planning to leave pets behind) of your return date. Share your emergency contact details too.
2. Evaluate Your Health Condition.
According to this report, long-distance travelers are prone to severe health conditions. The risk increases for seniors. If you're battling a chronic age-related health condition like hypertension or diabetes, it's wise to get yourself thoroughly examined before embarking upon the journey. A thorough checkup of your eyesight, hearing, and other senses is highly recommended.
Please remember to take frequent breaks during the drive. According to this survey, drowsy driving is a significant cause of fatalities. On the road, it's wise to take short breaks at regular intervals to stretch or walk around.
Also, make sure you get adequate sleep. It's recommended that people 65 years and above get at least seven to eight hours of sleep per day.
3. Make Safety a Priority.
Road safety is important, especially for seniors on long drives. Honoring your driving limitations and being attentive while parking can make your journey much safer.
Here are a few quick tips to stay safe while on the road:
As mentioned earlier, rest before heading out for your long drive. Don't drive

if you have just taken a medication that induces drowsiness.

Address your driving limitations. For instance, avoid driving at night if you're having visibility issues. Plan your trip accordingly.
Take a defensive approach while on the road. For instance, maintain a safe distance from the car in front of you, avoid mobile phone distractions, and stay mindful at intersections.
Get your vehicle checked thoroughly for fluid levels and tire pressure. It's wise to involve an expert in this.
4. Stock Up on Medications.
According to a recent pre-pandemic survey, road travel is a top priority among 37 percent of the senior population. However, seniors are often taking medications that may not be available everywhere. Hence, it's wise to stock up on prescribed medications.
The rule of thumb is to get a 90-day supply. Keep a copy of your prescription handy during the trip. Make sure you carry medications in their original labeled containers to avoid any confusion.
5. Take Your Pets Along.
What better company can you expect on long drives other than your furry friends? Your mutt will not just be your constant travel companion but could offer security while you're on the go.
Remember to take their comfort into account during the trip. Look for pet-friendly lodging throughout the course of your journey.
Also, exercise all precautions to keep your pet safe and healthy. For instance, make sure that your pets have access to air conditioning, especially during warm-weather travel. Pack lots of fresh water for both yourself and your furry friends, and never leave your pets alone in the car.
6. Pack Smartly.
Remember to pack all the essentials for your trip. Start with preparing an emergency kit that includes a first aid kit, healthy snacks, and bottled water.
Also, carry your health insurance cards, medical bracelets, and, as mentioned earlier, prescriptions. Consider putting an index card in your wallet filled with relevant medical and contact information. If it lands in a stranger's hands, it could help provide you with the proper roadside assistance.
Long road trips are fun. They can help you enjoy retrospection, tackle stress levels, and offer a sense of independence in your golden years. Use the tips shared here to keep safe and enjoy your long road trip!
Author Bio: Jeff Hoyt works as the Editor-in-Chief at SeniorLiving. He writes articles that inspire seniors to live better lives independently. Many of his articles have been republished on websites like MSN, AOL, Yahoo, Fox News, and HuffPost, while Reader's Digest has named him a financial expert. He's also a member of the Writers Guild of America and Phi Beta Kappa and has been nominated for an Emmy award. Enjoy his Senior Living YouTube videos.