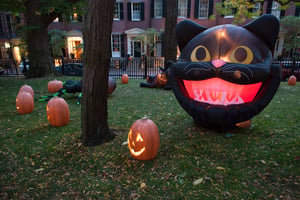 In a few weeks, it's possible that a scary visitor will show up on your front doorstep looking for a treat. While trick-or-treating has been a long-standing tradition for many, it does bring about some risk for homeowners.
Here are some things you should keep in mind this Halloween.
1. Be vigilant against an increase in property crime. Ghouls and goblins may not only be scouring your neighborhood for candy, but they may also be looking for other things they can get their hands on, including wallets, purses, and other valuables. Theft and vandalism increase significantly during this time. If you're handing out candy from your front door, make sure your garage is closed and locked. If you're sitting in your driveway handing out candy, keep an eye on your property as well as your neighbors' homes. If you notice anything suspicious, consider calling your local police.
2. Don't forget to blow out the candles. As we approach the holiday season, lighting candles may be a part of your everyday routine. If you have children carving pumpkins, placing a candle inside may be a family tradition. However, when calling it a day, don't forget to blow them out. Or instead of using real candles, consider using battery-operated ones. Lastly, never leave candles unattended. A pet's wagging tail or a small child could easily knock them over. For additional candle safety tips, click here.

A homeowners policy does provide coverage for fire damage. If you live in an apartment, it's crucial to have a renters policy. Usually, the building is covered by the landlord's policy. However, you'll need a renters policy to get reimbursed for the loss of your personal belongings.
3. Always keep your vehicles locked. Never keep valuables, especially your keys, in an unlocked car. Recently, our neighborhood experienced a series of thefts involving unlocked cars. Also, never keep your social security card in your wallet or purse. Keep it stored in your home, preferably in a safe with other important documents.

4. Take precautions with decorations. Halloween decorations have become more prevalent in many neighborhoods. Unfortunately, improper use and installation could lead to personal injury and property damage. Here are a couple of claims scenarios.

Claim Scenario 1

Darth Vader comes to your door with his good buddy Yoda and trips over an extension cord for your giant inflatable pumpkin in the front yard. Darth Vader and his lightsaber go flying. While Yoda tries to use the force to break his fall, he's unsuccessful. Unfortunately, Darth Vader falls to the ground and breaks his arm. Because this is an accident on your property, you'd be responsible for his injuries. Fortunately, his injury would be covered by the personal liability coverage in your homeowners insurance policy.

Claim Scenario 2

This Halloween, your goal is to have the most decorations in your neighborhood. Extension cords run everywhere, and your outlets are beyond their load capacity. As neighbors are enjoying your decorations, sparks begin to fly and your home catches on fire. Luckily, the fire is contained quickly, and you only experience $5,000 in property damage. Again, a homeowners policy will provide coverage for your damaged property.

5. Watch out for pedestrians. Excited kids looking to find their favorite candy may not necessarily think about safety and how to cross the street. As a driver, it's up to you to stay alert and slow down if you're going through a neighborhood during trick-or-treat hours. In addition, it would be wise to stay off your mobile device and focus strictly on driving.

6. Be on the lookout for vandals. Being dressed in a costume may give some the confidence to damage your property. When I was a kid, someone dumped oil on our porch as a prank. That was a huge mess for my parents to clean up. Watch for stolen decorations, eggs on your home or car, and toilet paper.

If something does happen, remember, before a claim payment can be made, you're responsible for paying the deductible. If the items damaged or destroyed are less than your deductible, don't file an insurance claim.

Lastly, regularly review your insurance policy with your agent to make sure you have enough coverage to protect you all year round.

For additional safety tips, check out the blogs below.

Six tips to keep trick-or-treaters safe on Halloween

10 tips for your next trip to the pumpkin patch

Ten tips to enjoy Halloween and keep your pets safe

Do you have any tips or information you'd like to share? Please share them in the box below.
This article is intended for general educational and illustrative purposes only and should not be construed to communicate legal or professional advice. Further, this article is not an offer to sell insurance. Please consult with your licensed insurance agent for specific coverage details and your insurance eligibility. All policies are subject to the terms, conditions, limitations, definitions, and exclusions contained therein.