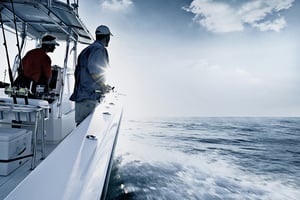 Are you thinking about buying a boat? For many, buying a boat is a dream come true. Days spent fishing, tubing, or just cruising with family and friends enjoying sunsets can make memories that'll last a lifetime.

However, like many big purchases, there are some things to do before signing on the dotted line. Being an informed buyer will make sure you get the right boat for you and your family.

1. Figure out your budget. There's more to owning a boat than making the monthly payments. You'll also spend money on things like:


Fuel
Maintenance
Docking and marina fees
Gear and accessories
Boat insurance
Winter storage
Knowing what you can afford ahead of time will ensure enjoyment for years to come.

2. Determine if you want a new or used boat. Like many items, a new boat comes with a warranty. There's nothing more disappointing than buying something only to have it break after a short period of time. A new boat with a warranty offers peace of mind. If something goes wrong, the repairs will be made with little to no cash outlay by you. And before you know it, you'll be back on the water with family and friends. While a used boat may not have a warranty, it can still provide enjoyment at a reduced price.

3. Figure out the size of the boat you want. There are so many factors that go into determining what size boat is right for you. They are:

What type of body of water will you primarily operate your boat?

Do you plan on sleeping on the boat?
How many passengers do you want on the boat?
Do you plan on trailering the boat or keeping at a marina?
Do you want to pull skiers or tubers with your boat?
4. Calculate your usage.
Buying a boat can be an expensive proposition, especially if you don't use it. Family or job demands can prevent you from using the boat on a regular basis. If this is the case, it may be best to hold off on purchasing a boat. Even if it isn't used, you'll still incur expenses such as storage, insurance, and depreciation. Consider renting a boat to get a feel for how much time you'll be able to use it.
5. Visit online forums. Talking to other people who love boats is a great way to learn more about different types of boats.
6. Attend a boat show. If you're in the early stages of researching boats, attending a boat show is a great way to see boats and gather information. Talking to brand representatives who understand their products can help identify what's important to you.
7. Research storage options. Where you live and the type of boat you buy will determine what kind of storage it needs. Here are a few options:
In-water boat storage. If you live in a warm climate and keep your boat at a marina, more than likely you'll be able to keep it in the water year-round.
Dry outdoor boat storage. If you live in a community where boating is popular, there may be facilities that stack boats outside on racks.
Dry indoor boat storage. Indoor storage is more expensive than outdoor storage. And depending on the facility, boats could be close together limiting access.
Outdoor storage at your home. If you decide to store your boat at your home, make sure you winterize your boat accordingly.
8. Don't overlook the inspection process. There are a few steps to follow especially if you're buying a used boat. First, walk around the boat and physically inspect it. Second, take it out on the water for a test drive to make sure it's seaworthy. Third, hire a marine surveyor. Like a home inspector, a marine surveyor knows what issues to look for and can prevent you from making a bad purchase. Finally, talk to the seller to learn more about the boat. Here are some questions to ask the seller:
Are you the original owner of the boat?
How many hours are on the engine?
How often has the boat been serviced?
Is the warranty transferable? (If applicable)
Have you experienced any problems with the boat?
Why are you selling?
9. Plan on buying additional items. As with any sport or hobby there are always extra things to buy. Find out what's included with your boat purchase and figure out what additional things will be needed. Life jackets are essential to keeping you and your family safe. Click here to see what your state requires.
10. Contact your independent insurance agent. A boat can be a big investment and should be insured properly. While a homeowners policy may provide some basic coverage, it's probably not enough. Talk to your agent to learn more about the following coverages:
Collision damage
Property damage liability
Bodily injury liability
Comprehensive
Additional coverage options
Do you have any tips you'd like to share? I'd love to hear them; please share them in the box below.
This article is intended for general educational and illustrative purposes only and should not be construed to communicate legal or professional advice. Further, this article is not an offer to sell insurance. Please consult with your licensed insurance agent for specific coverage details and your insurance eligibility. All policies are subject to the terms, conditions, limitations, definitions, and exclusions contained therein.