Right now, car dealerships are running commercials promoting their year-end clearance events. If you're in the market for a new car, this may be a good time for you to buy or lease one.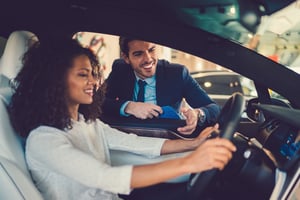 Recently, my daughter got bit by the new car bug. After graduating college in May and starting a new job, she decided now was the time to buy. Since I love looking at new cars, I was delighted to hear this. In addition, a new car meant one less car for me to manage when it comes to repairs.
Test driving a car is a very important step in the car buying process. While you may focus on color, features, and safety technology, determining how the car drives is critical before making the purchase. Also, arriving at a dealership can be both exciting and overwhelming. It's important to stay focused. Paying attention to details on the test drive can make the buying decision easier and can help prevent buyer's remorse later.
Here are some tips to help you with the test drive and car-buying process.
Before you go to the dealership, there are several items you need to think about.
How much do you want to spend?
What's the cost of insurance?
Should you buy from a local dealer or one where you can get the best deal?
What safety features and other options do you want?
What do experts, as well as consumers, say about the car(s) you like?
What's the value of your trade-in?
For a listing of websites that can help you answer these questions, click here.
Once you've answered these questions, you can call the dealership or go online to schedule an appointment to meet with a sales associate. The benefit of scheduling an appointment is that it can reduce the time spent there, because you won't have to wait for the next available sales associate, or explain what car you're interested in. By giving this information ahead of time, they can have the car pulled up front and ready to go.
Lastly, consider bringing a friend or family member along. They can help point out things you may overlook due to everything that's going on.
Before the test drive. Before you get in and drive away, it's important to look at the interior and exterior of the car. Do you still like the color? Does it have enough room to accommodate your family, friends, pets, or hobbies? Will it fit in your garage or parking stall?
Also, listen to the sales associate as they discuss the features and benefits of the car. This may help you become more acclimated to the car before taking it for a spin.
Lastly, double check to make sure there are no defects in the body e.g., dents or scratches. While it's a new car, damage could have occurred while the car was sitting on the lot that the dealer may not be aware of.
Sitting in the driver's seat. Once you get in, familiarize yourself with the car's controls. Turn on the radio, air conditioning, or heat. Adjust your seat to the proper height and length, then adjust your mirrors. Taking a few minutes to familiarize yourself with the dashboard and reaching to different dials or screens can make you more comfortable when driving the car. Lastly, don't forget to buckle your seatbelt.
On the test drive. Some dealerships may have a pre-selected route that their sales associates follow. If the route doesn't simulate your daily driving, tell the sales associate and request an adjusted route. If the sales associate won't adjust the route, ask if you can drive the car alone or keep it overnight. It's critical to see how the car performs under conditions like your daily drive. As you continue your drive, pay attention to:
Acceleration – Is it smooth and does the car get up to speed in a reasonable amount of time or does it feel underpowered. The acceleration could be extremely different from your current car. My daughter realized in her test drive that the car was underpowered but was willing to accept it for improved gas mileage.
Road noise – Is the inside of the car quiet or can you hear outside noise? On my daughter's test drive, the sales associate specifically talked about what the car manufacture does to eliminate outside noise.
Braking – Pay attention to how it feels when you press the pedal. Do the brakes grab aggressively, or do you really have to push to get them to grab?
Steering and handling – Make sure the steering is responsive and doesn't feel stiff, especially when parking the car.
Suspension – Again on my daughter's test drive, the roads were rough in spots. So, we were able to evaluate how the car felt.
Seating – Make sure the seats are comfortable. You don't want to overlook this as you'll be spending a lot of time in your new car.
Test the technology – The car my daughter test drove had the latest technology in it, so it was important for her to learn about it and test it while driving. The technology included forward collision warning system, adaptive cruise control, blind-spot monitoring, rear camera, and back-up warning/rear cross traffic alert. To learn more about these technologies, click here.
If something bothers you about the car, address it right away or make a mental note and address it when you arrive back at the dealership. If you ignore it because the price is good, or you think it's the car of your dreams, it could come back to haunt you.
Following the test drive. After your test drive is over, the sales associate will want to make the sale happen. If the car has met your expectations, then definitely continue the process. This is the time to discuss your trade-in and financing options.
If you're unsure, take some time to think about it, or continue your research on other cars. They may tell you that someone else is interested in the car. Don't let them pressure you. If the car's meant to be yours, it will work out. Lastly, another option is to take some time to tour the rest of the dealership and ask additional questions. This may help solidify your decision one way or another.
After you bring your new ride home, contact your independent insurance agent to make sure your policy is up to date.
Do you have any tips or information you'd like to share? I'd love to hear them; please share them in the box below.
This article is intended for general educational and illustrative purposes only and should not be construed to communicate legal or professional advice. Further, this article is not an offer to sell insurance. Please consult with your licensed insurance agent for specific coverage details and your insurance eligibility. All policies are subject to the terms, conditions, limitations, definitions, and exclusions contained therein.