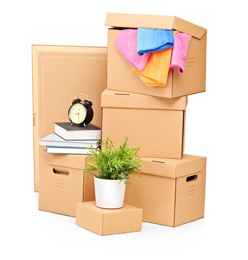 Whether you're moving your son or daughter into a dorm for the first year of college, or if you've been down this road before, it can cause feelings of anxiousness.
Whether you're a newbie or a veteran, planning is key to enjoying a successful move.
Here are some tips to plan for the big day. If you're moving your child into a dorm for the first time, check out my blog, "Is your child leaving for college? Here are eight tips to make it easier." This blog covers the emotional side of dropping your college student off at school, as well as insurance considerations.
Moving Day Tips
1. Start your studies early. Even though your family is enjoying summer and classes haven't started, it's helpful if you study early. By that I mean:
Know your move-in date and time;
The dorm address;
Dorm room dimensions; and
What's included and what roommates are bringing.
2. Pack early and often. For us, this year is much easier. Many items our daughter had last year remained in plastic tubs and will be moved back. When I think back to last year, however, I recall my wife packing on and off all summer. While there will still be things your college student needs once he or she arrives, packing over an extended period can take away the overwhelming feeling of trying to pack at the last minute. The more time you allow, the more relaxed the process will be.
3. Create a checklist. As move-in day approaches, your mind may be racing. Similar to when we go on vacation, we create a checklist. Jot down the things your student will need. When you acquire and pack the item, simply check it off the list.
4. Order online. If you don't enjoy going from store to store, consider ordering the dorm room items online. My daughter's college offered a program where we could shop online. That process worked well for us. After a few clicks of the mouse, our package was created and delivered to our home a few days later.
5. Set move-in day expectations. It's important for you to have a conversation with your child ahead of time about what he or she expects from you on-move in day. Your child should also talk to any roommates to discuss move in-day expectations.
6. Do your warm up exercises. Depending on the location of your child's college, you may spend a significant amount of time in your car. When you arrive, everybody will be excited. Before you start moving boxes, however, you should stretch and warm up your body accordingly. The last thing you want is to watch from the sidelines because you hurt your back after moving the first box.
7. Understand body mechanics. It's also important to move your body properly to keep it injury free. When lifting, here are some things to remember:
Your feet should remain shoulder width apart.
Bend from your knees and hips.
Remember to breath. Just like lifting weights, you need to exhale when lifting a heavy box. Holding your breath can increase blood pressure.
Ask for help. Instead of struggling with carrying a heavy item, wait for your moving team to return or ask a passerby. Other parents are willing to lend a helping hand. After all, we're in this together. I met some very nice people on move-in day last year.
Lifting tips
1. Take a practice run. Before lifting any items, take a test walk. Get familiar with the layout of the campus and look for hazards along the way, such as slippery floors, uneven floors, sharp corners, and blind spots.
2. Avoid reaching. Don't overstretch your body trying to reach something. Over reaching can cause muscle injury and cause you to lose your balance. Move into the proper position before attempting to grab something.
3. Take multiple loads. Instead of lifting three boxes at once, take multiple trips or ask for help.
4. Take a test lift. Moving day is full of changes. Obstacles may appear on the way to your student's dorm room that may impede your journey. Therefore, lift the box before venturing off. While it may seem light at the car, a delay could turn it from a light box into a heavy box. If you're struggling, take a short break.
5. Lift slow and steady. Avoid sudden movements to prevent injury and avoid losing your balance.
Sending your child off to college can be overwhelming. I hope these tips will help make it less so as you prepare for this new chapter in life.
Do you have any information you'd like to share? I'd love to hear from you please share them in the box below.