We spend all winter looking forward to long, sunny days. Then finally summer arrives, bringing some beautiful weather. But summer also can bring dangerous storms with flooding, tornadoes, and lightning. During the summer of 2016, in Duluth, Minnesota, a severe thunderstorm rolled through in the early morning hours. Winds were clocked at over 80 mph in some parts of the region. Local TV and radio stations were knocked off the air. Residents awoke to trees and power lines all over the ground. It was reported there were still 7000 homes and businesses without power, five long days after the storm. Imagine if this had happened to your organization in the middle of the day. Are you prepared?
Assess Your Risk
Consider these questions when assessing if your organization is ready for severe weather:
What types of storms are common in your area?
What is the evacuation plan?
What is the plan for sheltering in place?
How often are severe weather drills practiced?
Does the organization have enough supplies?
How long could the organization go without power?
Additionally, if your organization cares for children in any capacity, it's very important to plan for and practice emergency drills with kids throughout the summer.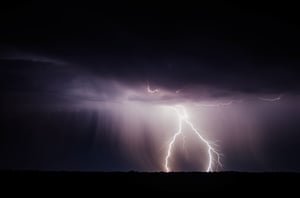 Children will react better in a dangerous situation if they've practiced and have some idea of what to expect. Have a plan for how parents will be notified and what the procedure will be for releasing kids in the event of a disaster.
Helpful Resources
Getting prepared for severe weather takes work. Check out these resources to help put together and practice a plan.