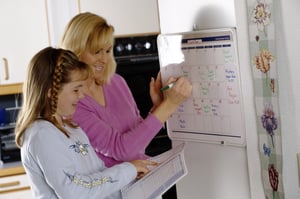 Another summer is ending. It's hard to believe how fast it went by. I hope you've enjoyed time with your family and friends and found time to relax.
Unfortunately, back-to-school time means chaotic schedules, congestion on roadways, and added stress. Depending on your children's ages and their involvement in extracurricular activities, the chaos might have already begun.
We often hear about tips for helping our kids manage back-to-school stress, but what about us?
Many parents of school-aged children have their own worries and insecurities about school starting such as:
Will my children have good teachers?
Will they know anybody in their classes?
Who will they eat lunch with?
How much will school supplies cost?
Are my children's schools safe?
Will my children make a sports team or will they get a leading part in the school play?
Will my children be able to handle their homework?
Will they excel academically?
There are some things that as a parent we just need to let go of. It's impossible to be in control of everything all the time. For other things, stress can be alleviated.
Here are some tips to help you beat back-to-school stress.
1. Map out your schedule now. If you haven't already done so, start thinking about what your schedule will look like once school starts. Consider buying a calendar that the entire family can look at. If your family members are aware of the different schedules, this can alleviate some of the pressure you may be feeling. Continue to update the calendar as new activities or appointments are discovered.
2. Review paperwork and school website. If you've received paperwork from the school and it's sitting in a pile on your kitchen counter, now's the time to start reading through it. Also consider looking at your school's website for useful information. Finding out on the first day of school that start or end times have changed will increase your stress level.
3. Reach out to your children's teachers now. If you have contact information for your children's teachers, consider sending them an email now. Asking questions before the school year starts can help you feel more prepared.
4. Develop a backup plan now. Think about different scenarios that may interrupt your normal school routines. What happens if an early morning meeting pops onto your schedule or if you're delayed in traffic? Do you have neighbors or family members who can step in and lend a hand? Can you utilize the bus service? Can your child stay after school in an extended care program or homework center? Having a Plan B can help eliminate stress when something changes. You won't be left scrambling trying to pick up the pieces.
5. Work as a team. As schedules get more hectic, divide up routine tasks with your spouse or significant other. This can reduce the workload and stress that maybe only one person is feeling. If you're a single parent, ask for help from neighbors, friends, or family members. People are willing to help if you simply ask.
6. Prioritize back-to-school expenses. Buying school supplies and new clothes is exciting for the kids. But for us, it can be overwhelming because we pay the bill. And once school starts, it never fails, miscellaneous fees start to trickle in (e.g. field trips, yearbooks, etc.). Write down everything you think your students need with estimated costs and then prioritize. There may be something on the list that can wait.
7. Discuss rules and expectations. For a lot of kids, the end of summer can be a rude awakening. The days of staying up late and sleeping in are over. Also, the amount of time spent on social media or gaming will need to be reduced so that they can focus on homework. Before the school year starts, discuss what the new rules will be. Let them know that homework takes priority. Hopefully, setting expectations now will help with the transition into the new year and will alleviate future arguments.
8. Write it down. If you have questions you want to ask or things you want to do, write them down, rather than trying to store everything in your brain. This can reduce stress and free up brain power to concentrate on things that are more important.
9. Don't be afraid to say no. Along with the start of school comes volunteering opportunities. Based on your children's involvement in activities, volunteering may be mandatory (e.g. concession stand, uniform fitting, etc.), while other opportunities may not be mandatory. Volunteering is rewarding and has many benefits. However, it's important to stay focused on your family's needs.
For additional back-to-school tips, check out the blogs below.
Five tips for getting ready for the new school year
Nine tips to make the first day of school easier
Winning tactics for a safe school year
Eight tips for setting up your child's dorm room
Twelve tips for moving your child into a new dorm
Do you have any tips or information you'd like to share? I'd love to hear from you. Please share them in the box below.