Buying a new car can be exciting and scary. I love the new car smell and all the new features that come with it.
For me, however, the scary part is driving it off the lot. No, it's not the depreciation. It's the fact that my new baby (investment) is now out on the open road. All of a sudden, I'm worried about stone chips, road debris, and other drivers ... things I normally don't think about after I get my first ding or scratch.
While it's not fun to buy auto insurance, imagine life without it. We would be responsible for paying for damages out of our own pockets for things like:
Medical bills;
Legal fees;
Property repair; and
Actual repairs to our car and others.
When you purchase auto insurance, you protect your family, and your investment. And when it comes to purchasing insurance, many factors determine your premium. Unfortunately, people believe various myths about how insurance premiums are calculated. The infographic below identifies some of these myths and explains them so you have a better understanding of how auto insurance works.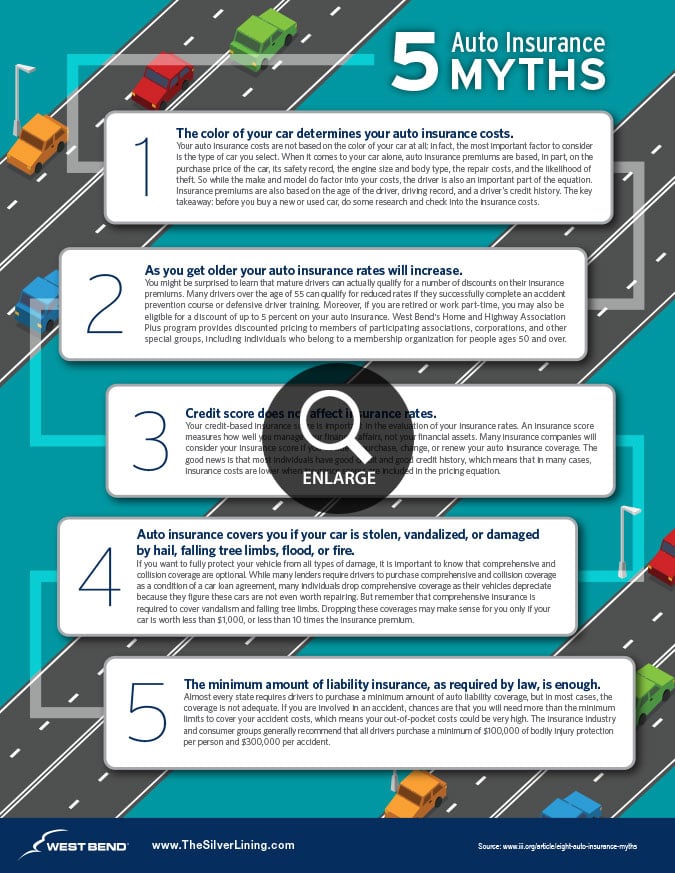 For additional resources on auto insurance, check out the links below.
Do you have any tips or information you'd like to share? If so, I'd love to hear them. Please share them in the box below.
This article is intended for general educational and illustrative purposes only and should not be construed to communicate legal or professional advice. Further, this article is not an offer to sell insurance. Please consult with your licensed insurance agent for specific coverage details and your insurance eligibility. All policies are subject to the terms, conditions, limitations, definitions, and exclusions contained therein.